You empty your wallet's excess loose change into a container, every day or two. After collecting so much loose change over the last few months or even years the container is full and you want to turn those coins into notes, or worse you need to count it so you can pay a debt.
Due to anti-money laundering laws, in Australia you can no longer go directly into any bank with jars of random coins and expect them to give you the money in notes. You have to go to your local bank (one which you have an actual account with), so they can directly deposit it into your account. Also, if the coins aren't in properly sorted into nice money bags, then they are likely to charge you a fee for counting/sorting the coins.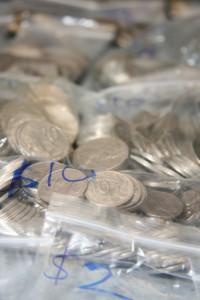 What you need.
Lots of plastic money coin banking bags.
Your pile of loose change.
(optional) Kitchen scales (or something that shows weights to an accuracy of 1g).
A large enough table.
Time.
There are a couple of ways of counting and sorting the coins. You can sort them into stacked piles, heaped piles, or directly into the plastic bags. You can also count the number of coins, the value of the coins you have, or simply weigh them.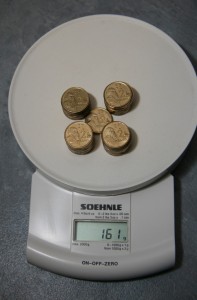 I personally like to stack the coins, then weigh and finally bag them and will now explain my process.
What to do
Make sure your table or work area is clear.
Empty the container of money onto the table. If it's a REALLY big container then you may have to do it in batches.
Sort out the different coins into stacked piles. I personally start by picking up 90% of the 50c pieces. Putting them into my hand to make a stack and putting them into a group. Then as I'm picking out about 90% of the 20c pieces I am likely to come across some more 50c pieces that I previously missed, I'll usually pick these out, and put them onto a heaped pile, near the stack of other 50c pieces. Repeat the process for the other coins ($2 and $1's), then you should only be left with the 10 and 5c coins. Instead of picking up each of the coins, I usually find it's faster to simply slide them into the different heaps, then pull some of the coins off the table and into your other hand, which should now be half full, so you can make them into stacks.
Don't forget to remove any foreign currency coins into their own pile, out of the way.
You should currently have bunches of sorted and stacked the coins, you will now need to weigh them.
Using the reference table below, put the required weight of coins (looking at the weight/bag column) onto the kitchen scales. It's usually ok if you are out by a gram or two. Put those coins into a money bag, and if you are pedantic, or dropped some coins, re-weigh the bag (it's likely to be around a gram heavier).
Repeat step 6 with all the coins of each denomination (type). If you have left over coins which don't add up to the required weight then you won't be able to bank them. Put them back into your original container for the next time you count your coins.
You should now have a bunch of plastic coin bags… FILLED WITH COINS! I usually count up how much money I've got.
Take the money to the bank. As you are probably carrying multiple kilograms worth of change, you'll want to make sure that whatever container you try using can actually carry the weight of all the bags. Also, try not to get robbed.
The bank will basically do what you just did, except with a slightly more advanced set of scales, which can actually detect when you haven't put the correct number of coins, or even if you counted some foreign coin as a local one (in which case it'll error). I usually carry an extra coin or two of each type at this point so that if I did miss a coin I can add it to the bag and get the full amount, especially as some banks might not accept incomplete bags.
The bank will deposit the money into your account. At this point I usually head to the nearest ATM and pull the money out in notes, unless I actually want it in the account.
—–
Reference Table
This table details the coin denomination, the average weight of each coin, how much each bag should be worth, how many coins per bag, and the approximate total weight of the coins per bag.
– Coin bagging reference –

| | | | | |
| --- | --- | --- | --- | --- |
| Type | Weight/coin | $/bag | Coins/bag | Weight/bag |
| 5c | 2.8g | $2 | 40 | 112g |
| 10c | 5.6g | $10 | 100 | 560g |
| 20c | 11.2g | $10 | 50 | 560g |
| 50c | 15.5g | $10 | 20 | 310g |
| $1 | 8.9g | $20 | 20 | 178g |
| $2 | 6.5g | $50 | 25 | 162.5g |
—–
Glossary
Stacked pile – A pile of coins where the coins are on top of each other.
Heaped pile – A bunch of coins where they are spread out over an area, usually only a couple of layers thick.
Money bag/coin money bag – A plastic bag with small holes in it that utilises a ziplock seal and is designed for holding coins of the correct amount for when you deposit them at the bank. Usually the bank can provide you with these.
Tips and Tricks.
Don't have any coin bags? Ask they bank! They'll almost always be happy to give you the coin money bags because they know they are likely to get them back, but mainly because of how annoying it is as a teller to have to rip your non-standard bags, and put all the coins into a counting machine, or worse, have to sort and count the money themselves because you completely stuffed it all up. This is when they are likely to charge you.
Want to count the coins? A great way of speeding this up is to create a stack of 10 coins, you then make the stack next to it the same height using the same coin denomination, and there you go, you've now got 20 coins, and only had to count ten! This also works the other way around. When you want to check your counting, if you have two stacks you think are the same number of coins, if you put them right next to each other and they don't line up, you'd better recount them.
I determined the average weight of each coin by weighing 20 of them, and dividing the total weight by 20. I could tell when the coins I had were a bit heavy because the outcome wouldn't be a nice number. I tried another set of 20 coins and it'd usually be only a gram heavier or lighter, but the average weight per coin would make more sense. You could also just use wikipedia.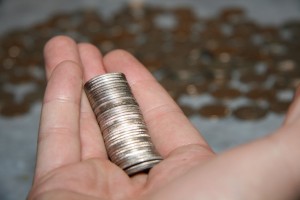 My money collection
I had about 6.2kgs worth of loose change. 799 coins in total which were worth $362.35, although I could only bank $320. Nearly 2.2kgs of it was in $39.20 worth of 20c coins. There was also about 177grams worth of foreign currency (I'm not sure why there was so much, I think I'd actually collected some and accidentally put them into the change jar).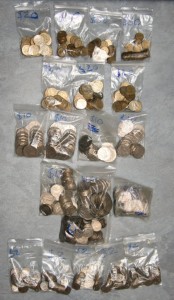 March 2009. Created by Michael Kubler, mainly for my own personal reference so I don't have to work all the weights and numbers out again next time.