I feel good. Today I spent my first day properly working on my education startup Teach with Reach. I've done bits and pieces before and pretty much this whole year I've spent saving up so I could bootstrap myself and be ready, but I haven't actually started coding anything until today.
The web app is a very basic prototype of a mixture between audiobooks and the forgetting curve. The idea being that as you are listening to an audiobook you'll be sent short summaries of what you've learnt and will be sent reminders of this over time. E.g in a day from now, a week later, next month, next year and so on.
The MVP (minimum viable product) won't be playing an audiobook, it'll simply list various chapters and let you click on them as you've read them in order to start the process. I nearly didn't make it, but I have the basics down pat. It's only a single chapter summary from the book Made to Stick by Dan and Chip Heath and due to the waiting period to get production access to Amazon's SES emailing service I can only the summary email to myself, but it's a start, not too bad for day 1.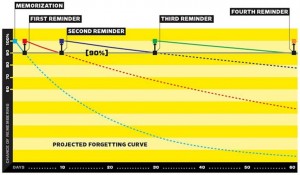 What I like about the project is that it's such a great seed to spread out towards the platform that I've been wanting to build for the past few years. Hopefully I can incorporate enough of the points from the book, plus the many many other education and communication ones I've absorbed over the last few years that the platform will be able to change people's lives for the better, one that can empower them with a life long passion for learning.
On a personal note this week is also a great week of celebration. My girlfriend (Flik) and I had our 2 year anniversary on Monday, it's my birthday on the 27th and her's on the 30th, so I've just added one more milestone to remember for next year.