At a meeting last night, Friday the 10th of July 2020 about 15 TZM members had a discussion on Team Speak about trying to reinvigorate the movement.
There was lots of ideas. But a couple of people's suggestions were on approaches to working out the best option instead of just ways to make TZM great again.Aaron Frost pointed out the need for the Scientific Method and Erykah pointed out how we need to do a post-mortem style review to work out what went well and what didn't.
Victor tried getting people to sign up to his proposal of doing face to face, street activism and only doing that. Seeing anything else as a distraction that should be shut down.There was a suggestion that we need to go back to the old, more authoritarian organisational structure. A so called "return to the good old times".But Kees pointed out the Google trend for "Zeitgeist Movement" which is similar to the graph that was in my head, except it drops off much more extremely. It shows that there's now only 1% or less interest in the movement compared to at the start.
Some suggestions included creating more videos and media and I know one person organising a group working on Podcasts.Personally I think what matters the most is Juuso of Koto Coop who is creating an actual RBE aspiring community which is work towards the actual transition instead of just getting the ideas out.
In terms of core members the movement definitely had a lot of people burn out and do their own thing for the last few years. We also have a habit of burning out at least one good member when they do a global Zday event. Casey, Franky and likely this year it'll be Cliff.
Late 2018 is when it feels like the movement was at it's most fragile and very nearly disappeared. But thanks to people like Juuso, Mark, Cliff and the Discord community we managed to keep it going. I personally credit the tenacity of Mark for keeping the global meetings going and making them easy, open and transparent.We also used the opportunity to re-organise the movement. There used to be a pyramid hierarchy of communication. Local chapters would report to the national coordinators who'd report to the Global Chapters Administration. There's now no longer a central gate keeper group like there used to be.  It's a lot more distributed. Partly based on my Reorganisation doc, plus some other peoples ideas.
Different people have different areas of responsibility and in most cases there's different groups who help run different projects.
Myself I'm the main person with access to www.thezeitgeistmovement.com and as such website updates are something I prioritise. I can also post on Facebook so I'm usually involved in things like the Zday events which need updates and promotion.
There is a team responsible for moderating the Discord server, another group who deals with the main Facebook page but again others who deal with a lot of the other Facebook groups. There's Telegram, Team Speak and more.
It seems that especially during the global Covid19 pandemic there's been an increase in people interested in the Zeitgeist Movement.That's not surprising given the fact we are being forced to go into a form of economic hibernation and because the existing capitalist monetary system doesn't support that there's some room for change. Something we've been wanting for a decade.
So with people interested in making TZM great again there's a few things to consider:Firstly there's a question of if reviving TZM is a good idea. 
As the Zeitgeist Movement is about a systems perspective take on transitioning to a Post-Scarcity society (e.g NL/RBE) using the Scientific Method, Sustainability, Access Abundance, Automation and Technology and the like.
Yes. I think the movement has an important place. It has the potential for far greater long term positive change than Occupy, Extinction Rebellion, Oxfam or even the Red Cross. If you've watched Zeitgeist Moving Forward and understand the train of thought then you'll understand why.
Secondly is how would you go about it.My proposal would be along the lines of "We need to reinvigorate the movement in order to help transition to a post-scarcity society. To do that we need to know why more people aren't more active in the moment, work out what what we are missing and what is the most effective activities we can do"
Just from the meeting alone we have some ideas of what might draw people in, like:
Face to Face street activism – Although not during the current Covid19 issues
More online media. Videos, podcasts and the like – There's a great Podcast team that's being created.
Online community spaces – We have FB, Discord, Telegram and the like, so this is mostly taken care of. Although the website needs a bit of a content overhaul.
More clear messaging – There was a project by Cliff creating new explanation videos which started this but has taken a backseat whilst he organises Zday.
More consistency – The example given was of all chapters having the same making scheme. Personally it sounded a bit OCD and I think we need to have locally appropriate diversification.
A change in org structure – Note that this has already been done, just not heavily communicated.
A change in target audience to be less conspiracy theory based – This is an interesting one and would require most filtering measures which go against the movements ethos of anyone with a good understanding of the concepts being a member. I suspect spinoff groups could add their own filtering in better ways.
A practical, physical manifestation of a transition. E.g Koto co-op.
I'm sure there's plenty more ideas.
Obviously which tasks people take on depend on their personality, skills and interest. So there's no one size fits all approach.
It's likely we need to do a review of historical events until now and if possible interviews with people who are no longer members and people who don't know about the movement and try working out some experiments to see what is actually effective.
One thing PJ said about the movement is that it's excitement based.
Being an active TZM member I've of course talked to many people about the movement and ideas and something I get very consistently is people saying "So you've been around for 10 years and what have you achieved?"
As TZM is about promoting the ideas of the NL/RBE we explain how we've reached lots of people. Millions of views on the main videos. Large amounts of media content, lots of chapters, events and activism.
But people want to know what steps we've made towards the transition.
As per my Price of Zero transition talk. That's where the Crossing the Chasm marketing information comes in useful to understanding why so many people are asking this question. Only a very small percentage of people are the innovators and early adopters of new concepts. Most are practical minded. They will join an RBE aspiring community to get things done they can't under a capitalist society but they won't go building the initial prototypes.
So based on my current understandings I think one of the most powerful things we can do is help people who already know the concepts to know we are making steps towards the transition. I'm working on a 5+25 year transition plan of my own.
But in the mean time there's Koto Coop which is just starting, Kadagya in Peru and a handful of proposals which need resources to get off the ground.
Still, doing the experiments is important and I think we need to work on the metrics which define success.
It is about more members in some specific community (e.g Facebook, or Discord)? That's an indicator of marketing not actual transition progress.
Is it about the Google Trend line of Interest Over Time going up? This would likely indicate more people interested in knowing about the movement. But partly the virality which helped spawned the initial interest was shaped by the cultural environment which has changed.
Is it about how many political policies are altered, or political parties voted into power? Not likely as that's not systemic change.
Ideally we'd have the Zeitgeist Survey Project to have a better handle on the actual change in cultural zeitgeist and also some metrics for tracking systemic change. But that's another project to work on and needs lots of help to get started.

KotoCoop: https://kotocoop.org/about/model/
Google Trends: https://trends.google.com/trends/explore?date=all&q=zeitgeist%20movement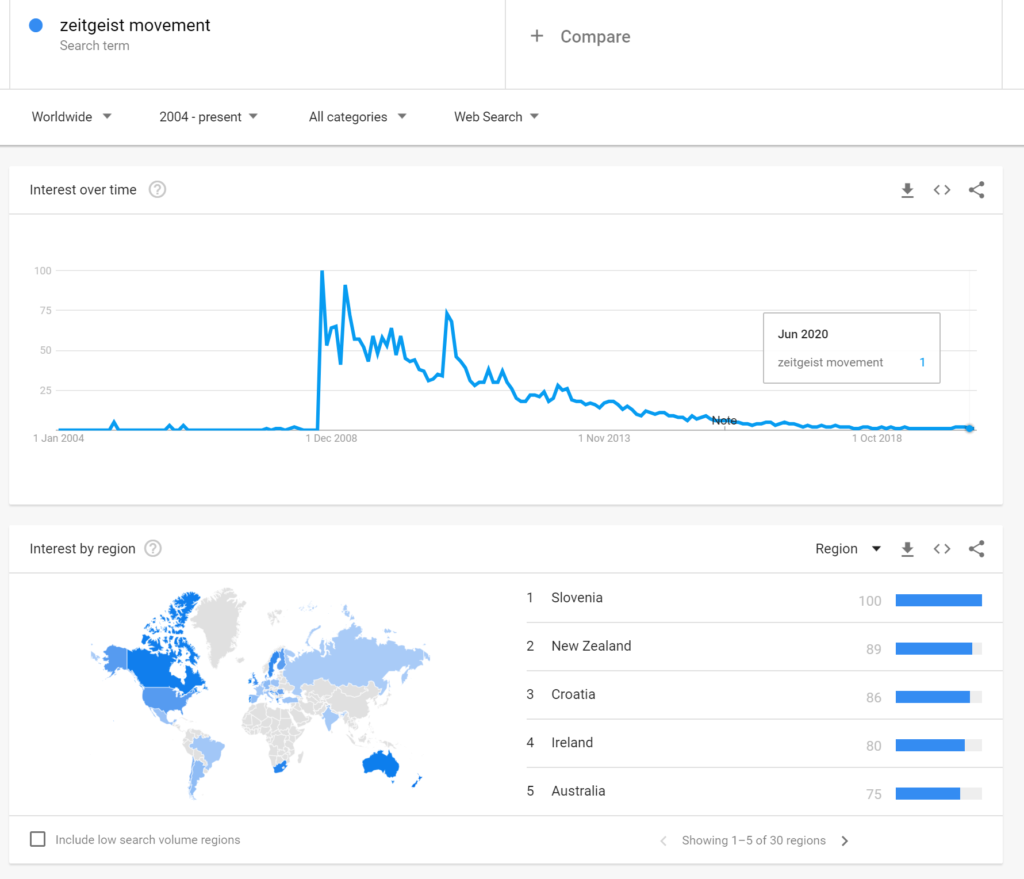 –Michael Kubler
Email: michael@zeitgeist-info.com
FB: @kublermdk