This year has been an interesting one. Certainly more about growth than the trauma and illness of 2021.
The highlight is certainly the birth of my 2nd son, Xander. Going to Australia was good, so was going full time with Drivible. I've also refined my long term path around TZM and want to focus on setting up an Abundance Centered Society on Mars.
The long story version
In January Jen fell ill. Turned out to be cysts on her ovaries.
She took some medication and stopped taking the pill.
I'm February I went to Adelaide, Australia for about 3 weeks.
I needed to renew my visa in the Philippines and visit my family.
But it wasn't a holiday I was working hard pretty much the whole time on both Drake's, Drivible and Viterra. 3 big projects I've been doing the backend work for years.
I worked at Mozzler last year and when Chris Were moved to running Verdi's full time I started working directly with Digital Noir. They had just recently merged with KWP and would later in the year rebrand as KWPX and I got to enjoy their offices at what used to be the cinema in Rundle St.
I got to enjoy the Frantic Feb and some of Mad March with the opening of the Fringe festival the first week I was there.
I was staying at my Dad's place and riding my bike to work. It was just like old times.
I also got to spend a weekend at my Mum's place in Murray Bridge and got to see my younger brother and sister and visited the Stirling markets and made heavy use of my mobile phone gimbal for filming with.
I also let the kids fly the drone around my Mum's place.
I also got my 2nd Covid vacation. It was much easier in Australia.
I flew there and back via Singapore airport and because of the COVID restrictions couldn't leave the airport, had to have a mask on the plane the whole time even when trying to sleep and I accidentally got the dates of the flights wrong and ended up with something like a 17hr layover on the way back.
Our (rental) house in Manila was being renovated. Well, it was being sprayed for termites and the already damaged ceilings and some wooden beams were being replaced. The poison was pretty bad so Jen took our 2 yr old son Xavier and our dog Maui up to live in a tiny shack we brought for ₱20k (AUD$570).
It didn't have power or a toilet and was right on top of the water. Thankfully they could string power from her sister's place next door.
During Jen's time there she did a 12km run or something crazy like that, up a mountain to her other sister's place and back.
Little did she know she was pregnant 🤰 at the time. But she'd said some things which made me think she was and I told my parents as much.
Within a day or two of my returning we got confirmation, Jen was pregnant!
Most of the year is a blur of work and OB doctors visits.
It turns out Xander had detached from one side of Jen's uterus and reattached on another and so Jen had to have bed rest for a while.
Thankfully we got a Yaya, a house keeper in the form of Tiya Ellen, who's a relative of Jen's. She's helped clean, cook, sanitise the baby bottles and more. We also have Mac Mac, Jen's nephew who's just turned 19 this month.
Jen had some other medical complications and concerns. Her pregnancy with Xander was certainly a lot more rocky than with Xavier.
We got to have a great time in little Boracay for Jen's birthday, out on a floating cottage for most of the day, swimming in the ocean and looking at the coral and sea creatures most of the time. Although I ended up with a big set of sun burns on my back which took months to fill go away. I'd applied sunscreen by it doesn't last long in the salty water. I learned my lesson, I need to use a full sleeve shirt next time.
In the mean time I'd chosen to go full time with Drivible and KWP hired someone to replace me with the projects I was working on there.
Drivible also got another angel investment and we hired 2 full time backend developers in the Philippines and a team to rework our front end.
I then spent some months working frantically to onboard so many people to what had basically just been me as a developer.
A highlight to me was creating the API for the front-end in a single day.
Another time I created a new Parts Log in 2 days and we released it without announcing it and people started doing payments with it within 24 hours!
I've been able to take on a more manager role which is good. But still spend most of my time programming and usually 1 day of meetings.
Thankfully I got the onboarding done before Xander was born. We had a range of estimated due dates from the 25th October to the 2nd November and he came out on the earliest. Jen's water broke on the 24th and Xander was born via C section on the 25th of Oct. He was 3.9kg versus Xavier's 3.4kg which is still considered a large baby for the Philippines.
Jen also had a thin uterus. We'd tried hard to have Xander naturally but if we pushed harder it's likely Jen's uterus would have ruptured which is a horrifying thought. I love Jovelyn Cabahug Kubler very very much. Also at the very least she'd have need an episiotomy.
Xander had to take antibiotics and because of that couldn't leave the birth ward. He developed jaundice and needed photo therapy. Which is to be expected because we couldn't bring him into the sun. Apparently myself and younger brother and sister all had jaundice.
As I write this a now 2 month old, 7kg baby Xander is asleep on my chest. He's growing so fast and he's so much more active and interested in his surroundings than Xavier was at this age. He's great at watching people's faces and grunts back when you talk to him. He's already trying to talk :-)
He's somewhat different from Xavier in that he's an escape artist. Within an hour of being born and put into a swaddle he had already wriggled a hand free. He often ends up with his arms or legs free or his mittens off and he's already rolling over to some extent. We are very happy with him.
Xavier was a pain and needed lots of attention to know that he's still loved.
Thankfully he's now old enough to go running around outside with the other kids, especially with Ayana who's closer to his age and size. Although she's 5yrs old and goes to school. Still, they were very good at running around and tiring each other out.
I went back to work only 2 weeks after Xander was born and was again pretty flat out busy. I felt recharged actually because I'd just spent 2 weeks doing family stuff.
Then I took time off over Xmas and New Year's despite no one else from Drivible doing so.
That's because from the 23rd Dec until the 28th we went from 7 people in our house to 22 as Jen's 2 sisters and brother and their kids and partners came to live with us. We paid for everything. Their transport, their food and brought them all Xmas presents. It was intense. Having so many kids running around the house.
It was also expensive. We likely spent ₱40k ($1,150), probably more. That doesn't include the Xmas present Jen got me. A GoPro Hero 9 Black! I happened to get her something complimentary to that, a full wet suit, including for the feet and gloves.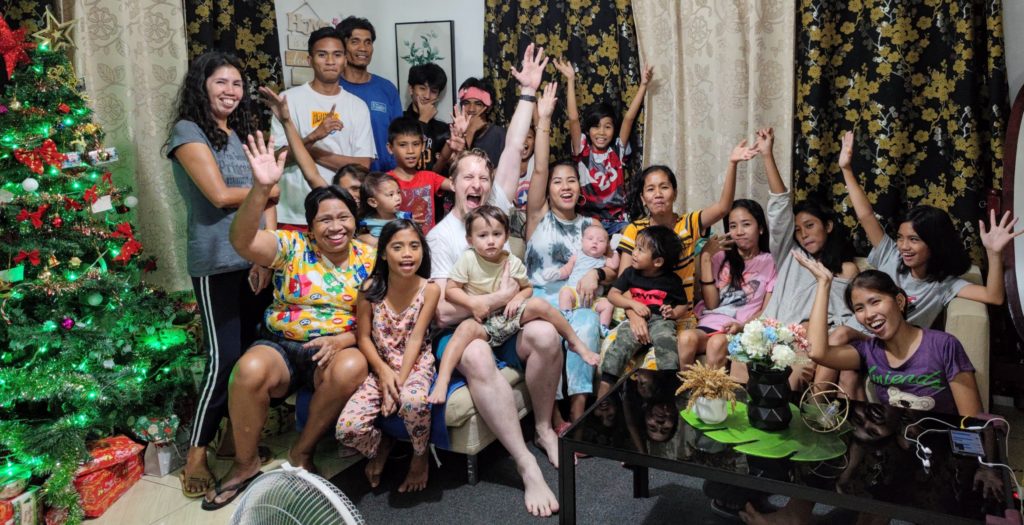 Xavier loved having all the kids around and got to play a lot, but he also got overwhelmed at times and would retreat into our room and want to be on his own for a while. He's like me, both an introvert and extrovert.
We had the small swimming pool at our place for the kids to play in the first day. They'd left at 2am and arrived around 7am. Jen and I had only gone to sleep around 6am because I'd been up later than usual finishing up my work for the year.
That said, we are night owls who don't normally sleep until 4am and don't normally get up until 1pm.
But we got up by 8am that day to spend time with everyone.
The next day some of us went to the mall and got more food. It was also Xmas Eve so we had a big set of games which Jen MC'd and the kids would compete for small toys. They'd dance until the music stopped and not be allowed to move or we'd play musical chairs, etc…
Then we opened the presents, actually just before midnight because some of the kids were so tired.
I got Xavier a pair of binoculars, although they are full professional ones that are too heavy and fragile for him to use much, but he got some new toys which made him happy.
On Xmas day we took a big group of the kids to the arcade. However it was completely packed. An hour long line up for the ghost train, a while just to use the bowling or other general arcade machines. But we had an epic ball pit fight with a bunch of kids.
On boxing day we had the local swimming pool all to ourselves and more family came down to visit. That was fun. Lots of food and some people who didn't voluntarily go in got thrown into the swimming pool. We had 34 people staying at our place that night. Most of the adults got drunk and it's the first time in ages I got to see Jen dancing so wild and drunkenly with her family. She's been pregnant or last year we were dealing with the loss of her Mum.
The next day Jen and her sisters went to TayTay to go shopping for clothes.
I took a bunch of kids to the arcade again.
The extended family travelled back to their place in a van, but left behind a parting gift, a cold virus. We are just getting over it now.
Jen and I went for an hour long massage today, our 4th since Jen's given birth to Xander. It's good.
Although I was reflecting on how things have changed over the years. I used to go for a massage in Australia and it was $65/hr and I was earning a little over $20/hr, so it would basically take me 3 hours to earn that. Despite my neck and back issues I went only a couple of times a year.
They later upped the price to $80/hr but I was earning a little bit more so it was still about the same number of hours.
Now I earn $80/hr but have also moved to the Philippines and the cost of labour and massages is way lower. It's now about 10 minutes of my working time to afford a massage.
I feel better now and hope I'll be able to go for a run tomorrow… Next year
There's fireworks 🎇 going off all over the place and it's not even 10pm yet. By midnight there's going to be an incredible amount of fireworks released here in Manila. Mostly from people letting them off in their back yard. It's a sight to see.
We only have officially licensed fireworks shows in Australia.
As I look to 2023 I want to focus on better strengthening two activities into daily habits. Mediation and content creation.
Most writing, but I also want to do a podcast about one of the most important ideas I had last year, having an Abundance Centred Society on Mars. I've already written some 180 pages of content about the idea, but making that into something digestible and worth people reading is hard and time consuming. By working on it an episode at a time I'll be able to refine the content and concepts and get feedback.
After that I'll be able to switch back to more work on my novel.
My hunger for working on Gather Together, an AI powered, collaborative online video editor and keyword curation tool for stock footage has been dissipated by Runway ML which do most of the important things I was interested in doing.
So 2023 holds some promise. It will also be busy trying to run Drivible the SaaS startup for Car Dealerships whilst having a family and getting anything else done.
I hope you are having a good one :-)
Happy New Years!!