Saturday the 25th of October 2008 was the day the dead walked the earth again. Well, not literally, but it still looked good.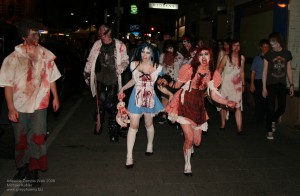 I started getting ready while at work. I ripped up some old clothes, cutting some holes out, and adding some Kryolan stage blood. I also mixed up my own fake blood using a mixture of Glucose syrup, water, and food colouring. As a hint, you can use a fair amount of Red food colouring, but only need a few drops of blue & or green to darken the blood. Some browning agent can help a little as well, although it stinks.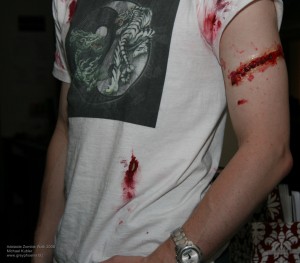 The fake blood I made up was for an oozing wound I created. I had a small tube going from a wound on my chest down to a syringe, and the idea was to be able to squirt the fake blood out, unfortunately I didn't have time to actually prime the tubing, as I was too busy running around taking photos of the actual walk.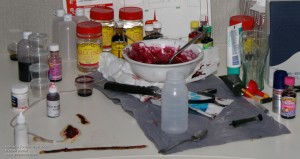 Items :
The 'Knife through chest' was just a cheap prop from the make-up shop next to work.
The Liquid Latex, Stage Blood, and White face paint was all purchased from The Stage Shop.
The Glucose Syrup, food colouring, Barrier Cream, spray-on bandage, and various bottles were purchased from the local supermarket.
Black cheap lipstick from the 'cheap as chips' general store. Although there are plenty of alternatives.
Before sticking anything to my skin I would apply Barrier Cream, which is a some what like moisturising cream.
Then applied the white face paint to most of my skin.
I stuck the liquid latex 'wounds' on using the spray-on bandage (super glue), which was ok, although through the course of the night some of my wounds started to peel off,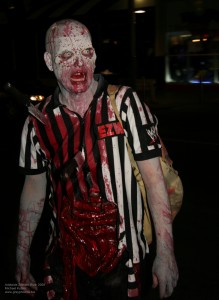 Some good guides to looking like a Zombie :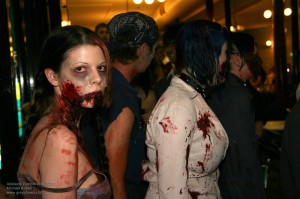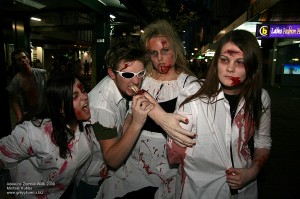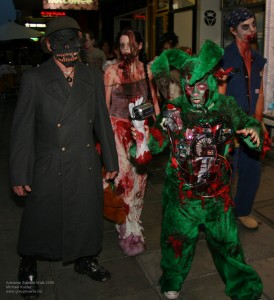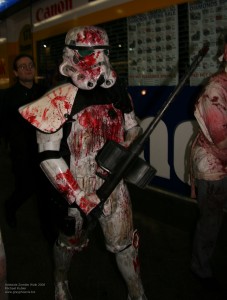 For a gallery with more photos from the walk please check out the link below :
http://gallery.greyphoenix.biz/other/AdelaideZombieWalk08/