Well, being a wedding, and studio portrait photographer, I wanted to upgrade my crappy CF card reader for a riced, uber one.
The faster I could find, the Sandisk Extreme Firewire Compact Flash Card Reader. Product specs indicate it's meant to copy at 40MB/s, run via Firewire, and requires an Extreme IV card to make the most if it.
Having a 2Gb Extreme IV CF card, I thought I might as well. I was hoping to be able to use it on my Laptop while out and about, or at the photography stall I have at the Fishermans Warf Markets in Port Adelaide.
So I hunted. While the Sandisk website indicated a few suppliers in Australia, I wanted to try before buying, especially as I was toying with the idea of the extreme USB card reader instead. Unfortunately none of the photographic stores in Adelaide seemed to have it. I couldn't find any at Diamonds, Ted's, or the Twin City Camera House.
Eventually I gave up and purchased the unit online from a store in Melbourne.
Finally, I received the unit, only for disappointment. It wouldn't fit into my Laptop. It wouldn't accept the 4 pin firewire interface. After doing some searching online I found that on most other online stores that was actually explained. Unfortunately it wasn't shown on the Sandisk website, nor Camera Action's :(
I then plugged it into my desktop. "Unknown device detected, please install the drivers". WHAT THE??? Plugging the device in and inserting a CF card caused the LED to light up on the reader, but windows XP wouldn't detect it. I tried on another computer, this one with a PCI firewire card, instead of built in… Nothing, Zilch, zip, nada, null.
This computer wouldn't even detect the card reader, even though the light would come on. A check of windows XP's device manager showed it had detected an unknown device, but unlike my other computer it didn't even want me to trying installing some non-existent drivers. The device is meant to just plug in and work.
I then emailed the store, and sent the faulty card reader back. Unfortunately there are no stock of the Extreme USB card readers in Australia that I could swap it for, however the store did contact Sandisk who advised there is was a faulty batch of card readers. Arggh.
Anyway, hopefully some time this week I'll receive a replacement Sandisk Extreme Firewire CF Card Reader, and not a faulty one.
-Crappy Product Shots-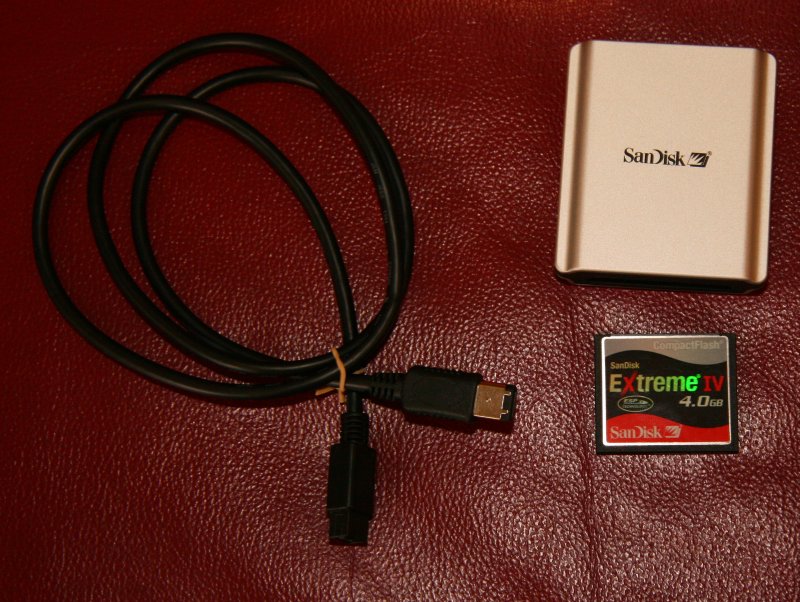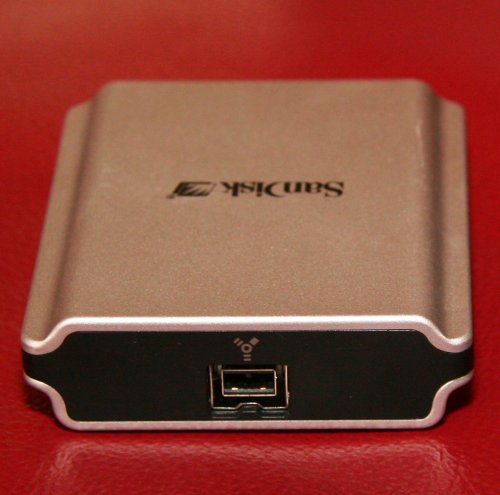 Note the weird plug on the back. This isn't any standard firewire port I've come across before, however they come with an 8pin -> weird plug converter.